We are so proud of our "Fi Ki Fò" young ladies who spent an extra three hours a day for the last 3.5 months participating in sewing, French, English, and decoration classes.
They have learned how to take measurements and sketch a pattern, embroider, decorate for an event, converse in French, and are now able to have a few conversations with their pen-pals in English!
To celebrate the girls and teachers' hard work, we went to the beach for a dinner — and impromptu photo shoot! We are looking forward to another hard-working semester this coming year.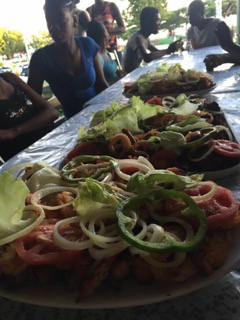 Merry Christmas and Happy Holidays
Like our Facebook page for more updates and upcoming ways to support our work.